SEAKEL - Privacy Policy
We are SEAKEL Communications Limited, T/A SEAKEL Fire & Security with a company number 421757 and a registered office at Unit 2 Patrickswell Enterprise Centre, Patrickswell, Co Limerick, Ireland, V94 X516.
WHO ARE WE?
This notice sets out the basis on which any personal data we collect from you, or that you provide to us, will be processed by us.
Please read the following carefully to understand our practices regarding your personal data and how we will treat it. The www.seakel.ie website is maintained by SEAKEL Communications Ltd (SEAKEL Fire & Security) (SEAKEL).
We provide security services to customers including supply, install and commissioning of Fire safety and security products. SEAKEL Communications Ltd (SEAKEL Fire & Security), (SEAKEL) fully respects your right to privacy, and will not collect any personal information about you on this website without your clear permission.
Any personal information which you volunteer will be treated with the highest standards of security and confidentiality, strictly in accordance with the Data Protection Acts 1988 and 2003 (as amended) and from 25th of May 2018, the General Data Protection Regulation (the GDPR) (the Acts.
This statement relates to our privacy practices in connection with this website. We are not responsible for the content or privacy practices of other websites. For the purpose of The Data Protection Acts 1988 and 2003 (as amended) and from 25th of May 2018, the General Data Protection Regulation (the GDPR) (the Acts), the data controller is SEAKEL Communications Ltd (SEAKEL Fire & Security).
Our data protection contact for the purpose of the Act is Mr Keith Coughlan keith@seakel.ie
WHAT INFORMATION DO WE COLLECT FROM YOU?
You may give us information by:
Corresponding with us by phone, e-mail or otherwise. We ask you to disclose only as much information as is necessary to provide you with our services or to submit a question/suggestion/comment in relation to our site or our services.
Filling in forms on seakel.ie (our site) such as the contact us form.
Applying to work with us. The type of information you may provide your CV, a cover letter, your name, address, e-mail address and phone number.
CVs should include information relevant to your employment history and education (degrees obtained, places worked, positions held, relevant awards, and so forth). We ask that you do not disclose sensitive personal information (e.g. gender, height, weight, medical information, religion, philosophical or political beliefs, financial data) in your application.
Hiring SEAKEL. Customers supply us with information which may include employee's contact details; a contact name; email; business address; telephone number and billing payment details.
WHY DO WE COLLECT THIS INFORMATION?
We collect the information in order to provide you with our services, to market our services, to improve our site and to recruit staff. We will use this information:
To set your company up as a client on our systems;
To liaise with you about projects that we are undertaking with you;
For prospective employees to create a candidate profile for you;
To administer and improve our site and for internal operations, including troubleshooting, data analysis, testing, research, statistical and survey purposes;
As part of our efforts to keep our site safe and secure;
To deliver information about our products and services, where you have subscribed to receive same.
The legal bases for the processing of your data are: Processing necessary for the performance of a contract which you have entered into with us or to take steps at your request prior to entering into a contract Processing necessary for compliance with a legal obligation to which we are subject.
Processing necessary for the purposes of the legitimate interests which we pursue in providing you with quotes and proposals about our services prior to contract where such interests are not overridden by your interests or fundamental rights or freedoms which require the protection of your information.
WHO MIGHT WE SHARE THIS INFORMATION WITH?
We may share your information with our selected business associates, suppliers and contractors to provide you with our services. For example, these business partners may include our web hosting provider and our IT service providers. Where an assessment of your credit score is a condition of us entering into a contract with you, we will share information with our selected credit reference agencies.
In addition, we may disclose your personal information to third parties:
In the event that we sell or buy any business or assets, in which case we will disclose your personal data to the prospective seller or buyer of such business or assets. If we or substantially all of our assets are acquired by a third party, in which case information held by us about our customers will be one of the transferred assets. If we are under a duty to disclose or share your information in order to comply with any legal obligation, or in order to enforce or apply our terms of use and other agreements; or to protect our rights, property, or safety, our customers, or others. This includes exchanging information with other companies and organisations for the purposes of fraud protection and credit risk reduction.
As part of a project with other companies in the SEAKEL business.
DISCLOSURE OF YOUR INFORMATION
We may share your Personal Data with any member of the SEAKEL Team.
We may also share your information with selected third parties including:
Business partners, suppliers and sub-contractors for the performance of any contract we enter into with them or you. We have set out below a list of third parties with whom we share your data and the reason for such sharing: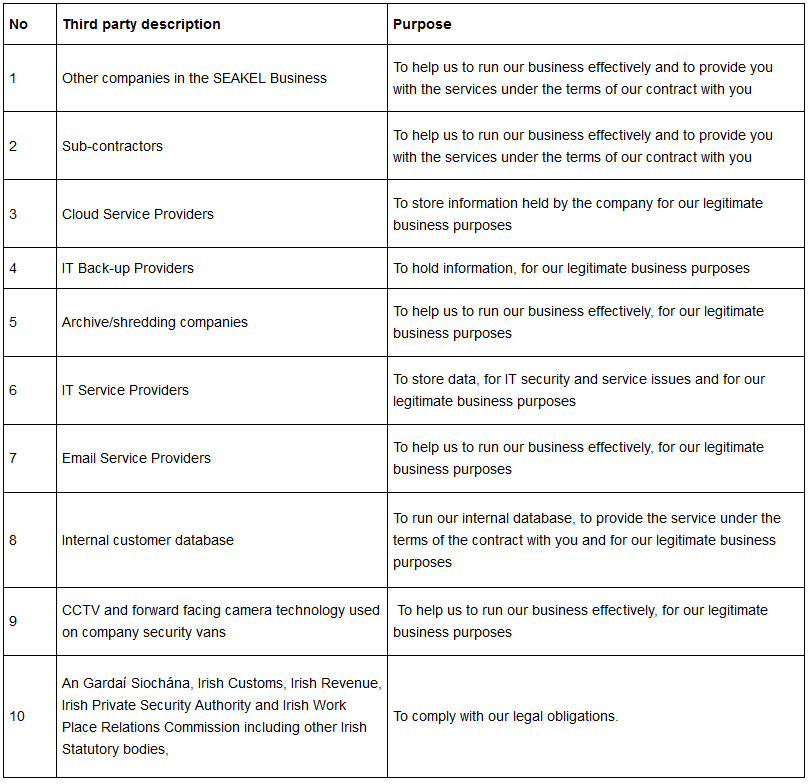 HOW LONG DO WE KEEP HOLD OF YOUR INFORMATION?
The time periods for which we retain your information depends on the type of information and the purposes for which we use it. We will keep your information for no longer than is required or permitted. Please see our data retention policy for further details.
DO WE TRANSFER YOUR INFORMATION OUTSIDE THE EUROPEAN UNION OR EUROPEAN ECONOMIC AREA?
However, we do not transfer any client/third party data outside the EEA.
WHAT ARE YOUR RIGHTS WITH RESPECT TO YOUR INFORMATION?
You have the following rights:
The right to access the information we hold about you.
The right to require us to rectify any inaccurate information about you without undue delay.
The right to have us erase any information we hold about you in circumstances such as where it is no longer necessary for us to hold the information for your use of our services or if you have withdrawn your consent to the processing.
The right to object to us processing information about you such as processing for profiling or direct marketing.
The right to ask us to provide your information to you in a portable format or, where technically feasible, for us to port that information to another provider provided it does not result in a disclosure of information relating to other people.
The right to request a restriction of the processing of your information. Where our processing of your information is based on your consent to that processing, you have the right to withdraw that consent at any time but any processing that we have carried out before you withdrew your consent remains lawful.
You may exercise any of the above rights by contacting the SEAKEL Communications Ltd, DPO, Mr Keith Coughlan by email on keith@seakel.ie
You may lodge a complaint with your local Supervisory Authority with respect to our processing of your information. The local Supervisory Authority in Ireland is the Data Protection Commissioner. There website is www.dataprotection.ie
When you become our customer the processing of your information, and/or that of your team who you nominate to liaise with us, will become a condition of the contract between us as we require certain information in order to be able to provide you with our services (e.g. contact information). In those circumstances, if you do not wish us to process your information we may be unable to provide our services to you.
WHAT WILL HAPPEN IF WE CHANGE OUR PRIVACY NOTICE?
This notice may change from time to time, and any changes will be posted on our site and will be effective when posted. Please review this notice each time you use our site or our services.
This notice was last updated on Monday 22nd February 2021.
HOW CAN YOU CONTACT US?
You can contact us: by phone: +353 61 307242, or on our website contact section or by email: info@seakel.ie
Our Data Protection Officer Keith Coughlan can be contacted by email keith@seakel.ie