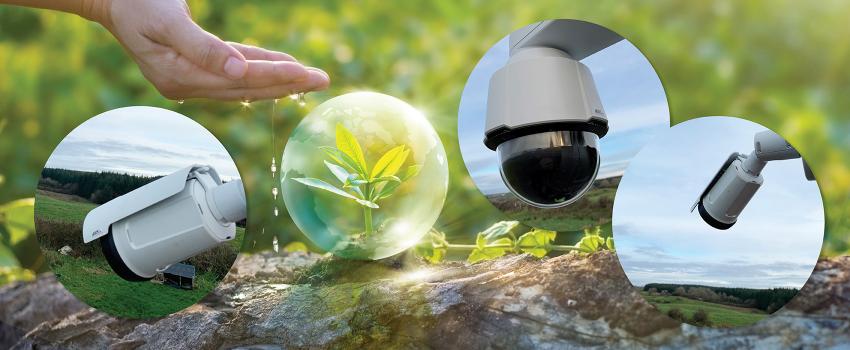 A flourishing social enterprise to create new forests and save the planet
Cloudforests' CEO, Bernard Pender, explains the genesis of a major project in sustainability and regrowth in Ireland, and how Axis' technologies are helping to create a greener tomorrow.
How did the Cloudforests project begin?
My earlier work with a video surveillance company involved a project in which surveillance cameras were installed in sections of forest to safeguard against fly tipping, trespassing and the crops in nearby fields being damaged or stolen. Two years ago, we were again working in the forestry sector, and decided to use our extensive experience and knowledge to develop our own site. Climate change has now become such a major concern, and this spurred us on to use our own reserves to create Cloudforests, a social enterprise focused on climate change and environmental protection. We source the land, plant trees, and look at ways to enhance the biodiversity of the site, purely for the benefit of the planet. We have a clear mission to help save the planet with our simple plan to create one hundred Cloudforests along Ireland's Wild Atlantic Way.
Where does Axis fit in, and how has its technology helped achieve your goals?
Following our previous experience working to secure forest sites with the aid of video camera technology, we now wanted to take this up a notch; being able to protect the land but also to capture the beauty of the natural surroundings and share this with a much wider audience. From the moment the first tree was planted back in October 2020, we have been capturing timelapse video of the sites using Axis 4K cameras. Axis products are always manufactured to an exceptionally high standard and were the ideal choice to withstand harsh conditions in rugged environments. Axis' stance on sustainability built on a foundation of ethical practices, plus its proven expertise in the field, makes it an ideal partner for the Cloudforests project.
Are there challenges associated with running the technology in such a remote location?
Axis technology and the possibilities of mobile have developed to such an extent now that the connectivity at our sites works perfectly for our requirements. AXIS Zipstream lets us send compressed video over 4G from a completely rural location, lowering the bandwidth without compromising on visual clarity. The versatility and ease of use of the Axis cameras are excellent. They even allow us to incorporate third-party apps so that we can not only use the cameras for timelapse recording, but also live stream to our social channels. This enables guests to visit the sites virtually. High-quality video imagery allows us to check the progress of trees across all of our sites at any time. We have also incorporated an Axis IP audio solution. Originally intended purely as a deterrent, IP audio speakers have been used to run music in combination with an evening light show, to stunning effect.
What part can Cloudforests play in working towards a more sustainable future?
From an environmental perspective, just one of our forests covers 12 hectares and can absorb 120 tonnes of carbon per annum. When you consider that a typical family car emits 4.5 tonnes of carbon within this same timeframe, we are removing the emissions of roughly 27 cars per annum. And this is at just one site. As a social enterprise focused on climate change, we want to use elements of the digital age to help us take direct climate action. We strive to run as a circular economy, eliminating waste and pollution by keeping products and materials in use. Our sites have started to generate lots of interest from individuals as well as from businesses asking how they could get involved. This prompted us to consider how we could further utilise Axis technology while doing something really worthwhile to add value. We wanted to give something back to the local area and to make our sites more visitor friendly.
Can you explain the Cool Partner initiative?
The Cool Partner programme is so-named because of its potential to help cool the planet through taking a greener, more environmentally-conscious stance. Businesses that want to become Cool Partners sign up for a three-year period, during which we plant 30 trees and give them all of the related content as a way to support their own green initiatives or demonstrate their credentials around sustainability. What inspires businesses to get involved is that our initiative is not just about putting their name to part of an existing forest; it really does offer them the chance to visit our sites and plant their own trees, making that personal difference to the environment. Each sponsored area carries a company logo, and live video feeds can be accessed at any time. At the moment we have five partners signed up to our Cool Partner programme, but mounting interest in the project has driven us to source two further forest sites which we are now developing.
What are your future plans?
We want to become a part of the community and will be looking into various initiatives to engage with the public, such as installing bat boxes and bird houses and even enabling small businesses to run from our sites, selling honey or fruit that they have grown on our land. From a technology perspective, our sites will continue to utilise dedicated, scalable and customisable solutions. Naturally, we will again turn to Axis to meet our needs as we grow. We are hoping to install AXIS Camera Station VMS to enable complete monitoring of our sites from any location, and want to work to develop our audio intelligence, allowing us to listen in and identify the sounds of the forest, as well as the visuals. This will result in a fully immersive experience, even for those who cannot be there in person.
For more information contact SEAKEL 061 307242 - hello@seakel.ie